While some gamblers write off cheap, low limit blackjack as a waste of time, many seek out opportunities to play a game that can stretch a bankroll. In addition to conserving money, blackjack games with a $1, $2, or $3 minimum bet can be a useful tool for new players who are learning the game. Others simply enjoy grinding a cheap table while accumulating free drinks.
  Note that although cheap blackjack can be appealing, game rules are often less player-friendly than tables with higher minimums which amplifies the casino's house edge. Most players don't mind that though… after all, the house edge doesn't sting as painfully when betting as little as $1 per hand.
  We thought it would be helpful to put together a guide to help players seeking low limits find casinos offering the cheapest blackjack in Vegas.
  Table game stakes are fluid and can change quickly. We'll do our best to keep the list updated, but recommend calling ahead or checking the casino's website to ensure low limit blackjack is being offered when you plan to stop in.
  See Also: 44 ideas and ways to save money while in Las Vegas.
  OYO: Offering the only live $1 blackjack game on (well, near) the Las Vegas Strip, OYO uses this low limit game to incentivize players staying at Strip resorts to stop in. At a mere 10-15 minute walk from resorts like MGM Grand and Tropicana, OYO should be on the to-do list of visitors seeking low-limit blackjack. The $1 blackjack game is offered 24-hours per day, so you'll have a tough time missing it.
  TI: Although not a "traditional" blackjack game, TI offers cheap stadium blackjack with a $1 minimum bet. The game is dealt live, just to a larger number of people in a stadium configuration. Better yet, the game pays 3:2 on blackjacks. Wagers are made and paid on the player's individual betting station.
  $5 Blackjack on the Strip: Although not "ultra-cheap" STRAT commonly offers $5 minimum blackjack on the Strip. Venetian deals a $5 minimum stadium-style blackjack game as well.
  $5 Blackjack Near the Strip: Representing one of the better gambling values in Las Vegas, we recommend making the short walk to Ellis Island, located behind Bally's, where you'll find $5 minimum blackjack that pays 3:2.
  Palace Station, also located off the Strip, offers $5 blackjack games. The casino is accessible via a free shuttle that picks up at Fashion Show Mall or a cheap Uber/Lyft.
  Downtown Grand: Located just steps away from the Fremont Street Experience, Downtown Grand (formerly Lady Luck) offers $1 blackjack from 11 am – 3 am Thursday – Monday. Downtown Grand's table games are currently closed on both Tuesday and Wednesday.
  $5 Blackjack Downtown: Although $10 minimums seem to be the new normal, $5 blackjack on Fremont Street can still be found, especially during non-peak times. Your best bet for $5 blackjack at this point is either Main Street Station or Downtown Grand, which both commonly offer a $5 game.
  It is important to know that during the pandemic, and resulting capacity restrictions, many casinos bumped their baseline limits up to $10 or more as dealing $5 blackjack was an unprofitable proposition. Now that casinos are getting back to 100% occupancy with no social distancing requirement, we are hopeful that $5 blackjack will become more common in the near future.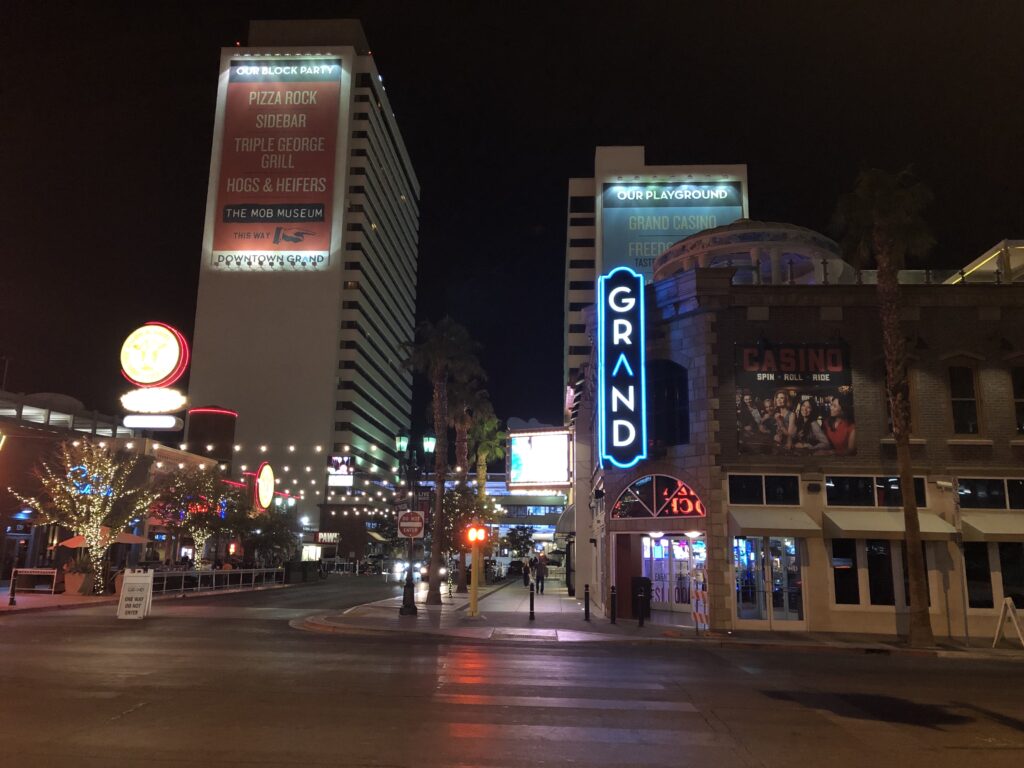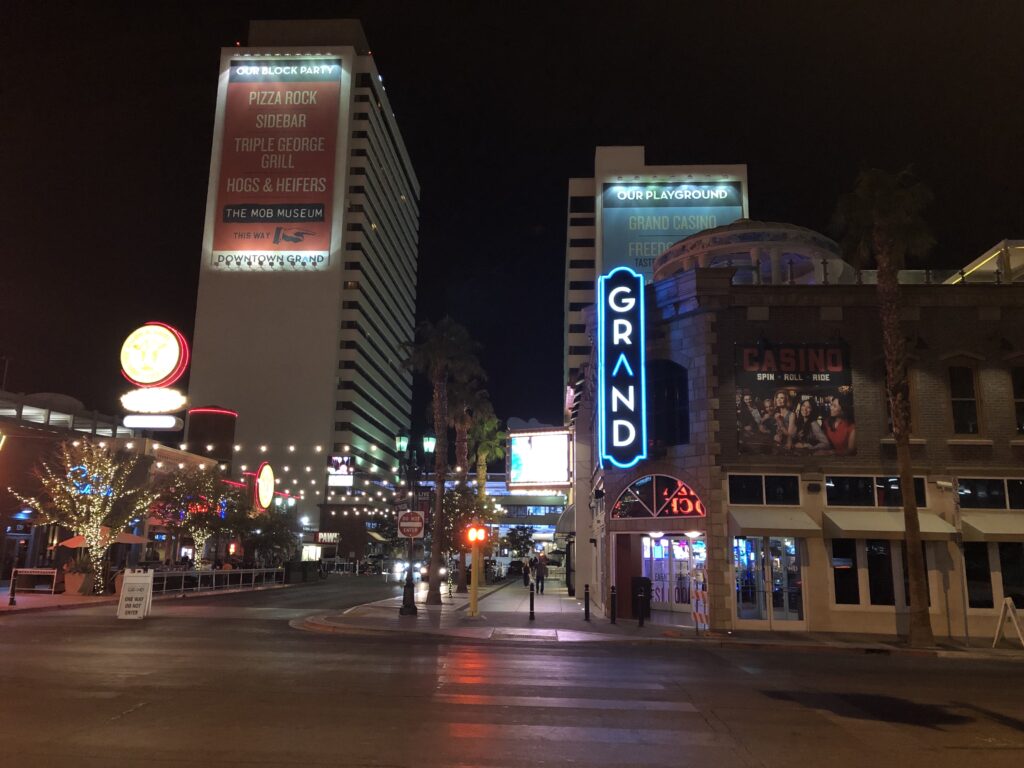 Inside, you'll find some of the cheapest blackjack in Vegas
  Joker's Wild: Located about 10 miles from the Strip in Henderson, Joker's Wild offers players a $3 minimum blackjack game 7 days a week. Note: Joker's Wild has temporarily closed their table game pit.
  Poker Palace Casino: Worth a mention, Poker Palace Casino, located in North Las Vegas offers a $2 blackjack game. A solid value for those looking for an inexpensive game.
  Jerry's Nugget: Located in North Las Vegas, Jerry's Nugget deals a $3 minimum blackjack game daily.
  Note that even if $1, $2, or $3 blackjack isn't offered, most locals casinos do offer $5 minimum games.
  Stadium Blackjack: Stadium configurations allow one dealer to spread a game for a large number of players. While an actual hand is dealt by the dealer, players place bets, and collect winnings, on their own personal betting station. These configurations are numerous on the Strip and usually offer lower minimums. While it isn't quite the same as sitting at a table, I personally find it preferable to video blackjack (discussed below).
  Video Blackjack: Although the authentic feel of chips, cards, felt, and a live dealer are missing, bartop and electronic blackjack games often allow low minimum bets and are offered at most Vegas casinos. Like their live counterparts that also feature low minimums, rules for low-limit electronic blackjack often amplify the house edge. Even with an exaggerated house advantage, a cheap bartop blackjack game can be a good way to string together a number of complimentary cocktails.
  While cheap blackjack is getting harder and harder to find in Vegas, we are encouraged by the fact there are still a few casinos offering minimum bets as low as $1. Hopefully, we were able to point you in the direction of a cheap game that will work for you!
  When in doubt, just remember blackjack near me that the further you get from tourist centers like the Strip, and Fremont Street, the lower the minimum bets tend to get. Don't be afraid to branch out and take an Uber to a locals casino for lower minimums and better player odds.
  See Also: Where are the loosest slots in Vegas? We dig into Nevada Gaming Control data to find the answer.
  Featured Image: ?nomadsoul1/123RF.COM
  Share this Article!
  8
  shares
  Share
  Tweet